Wood is a natural material that radiates warmth and comfort. It has been used for centuries in building houses, toys, instruments and furniture, but also for constructive tasks.
Raw or finished with a lacquered finish, wood always needs to be treated through a finishing process to protect it from the elements, making it aesthetically pleasing and durable for everyday use. And a building block for this is always a perfect finish.
MB has set itself the task of making this easy, inexpensive and of high quality for customers. This is what the wide range of machines and the people behind the products from MB Maschinenbau stand for.
ROBA Tech
The patented ROBA Tech principle is used for grinding flat and profiled workpieces.
The rotary brush belt grinding system for optimal processing in:
Intermediate paint sanding
fine sanding
MDF rough cut
Sheet metal deburring
For these areas, ROBA Tech offers the optimal conditions for the best surface quality with its innovative grinding process.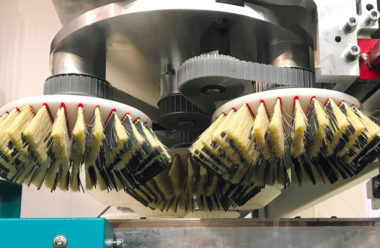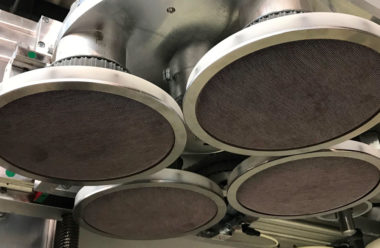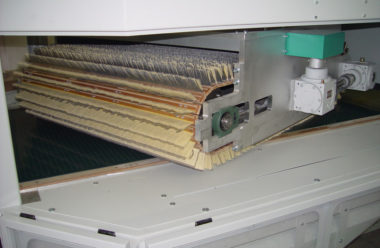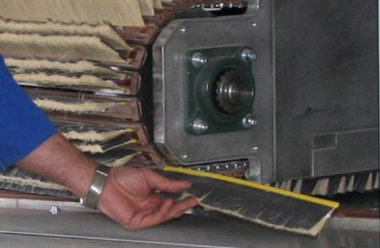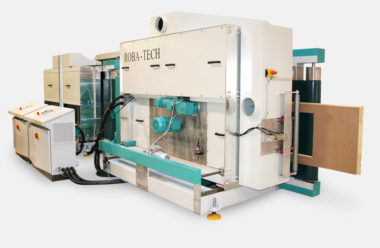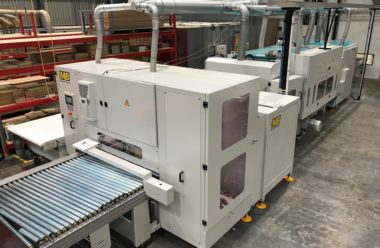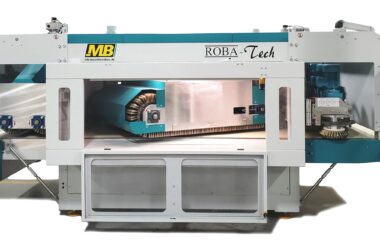 grinding process
The starting point for the patented grinding principle of ROBA Tech is the main disadvantage of all previously known rotary brush grinding machines: The usual machines working with grinding rollers only touch the workpieces in a very narrow area. A grinding process only takes place at the vertex of the circumference that the tool describes. The innovative ROBA Tech 1300 is equipped with a newly developed grinding brush belt with exchangeable grinding segments, which makes it possible to achieve a grinding surface of approx. 1300 x 1500 mm and more than 250 meters of grinding media. This is unique on the brush grinding machine market. A 360° rotation of the abrasive brush belt enables this machine to gently reach all corners of the workpiece. The reinforced disc unit is new, which can now also be used for light structuring and calibration work. To do this, it is arranged at the machine infeed and adapted to the task by using special disc tools: discs with wire strands are used for structuring, regardless of the grain of the wood.
The flat Micron Disks are used for sanding flat surfaces and ensure a chaotic sanding pattern that can be more easily covered by a top coat. Conical discs make it easier to sand edges and V-shaped millings, as the sanding brushes inclined at an angle can better reach the milling contours. In order to be able to use Micron or conical discs, it makes sense to install the disc unit at the machine infeed. The subsequent high-performance ROBA Tech sanding belt then takes over the final fine work.
At the machine outlet, many customers choose a double brush unit, which makes the ROBA Tech even more flexible when switching back and forth between solid wood and lacquer sanding tasks. There is also the option of designing this unit as a cleaning station.
The intensive grinding of the ROBA Tech unit needs a very good vacuum in order to also hold small parts securely. An MB-typical design of the vacuum channels ensures that an optimal holding force is generated with minimal vacuum fan performance.
Many grinding options that can be set via PLC help the operator to set the machine to his grinding requirements.
Advantages of the ROBA Tech principle
Large grinding areas enable low movement speeds with better effectiveness.
A 360° rotating grinding head with a large grinding area ensures even grinding in all workpiece areas.
Freely programmable grinding parameters to optimize the grinding results.
A perfected vacuum system guarantees the safe processing of small
parts such as e.g. B. drawers.
A "pulling" grind avoids wavy surfaces and also grinds deeply milled contours.
Long sandpaper service life, since the low movement speeds prevent hard edge attack that increases wear.
Optional additional units such as the disk system or the double brush optimize the result.
Freely selectable abrasive configuration from the MB Flex system
Let Us Help You Build The Right Solution
Fill out the form below and one of our industrial machinery experts will be in touch soon to answer any questions.
Why Choose Scarlett Inc.?
Scarlett Machinery specializes in the sale of new and used industrial woodworking machinery to Grand Rapids, Detroit as well as most of Michigan, Ohio, and Indiana. By combining our years of knowledge, experience, and the best machine tools in the industry, we provide manufacturing solutions designed to improve workflow and provide cutting solutions in most woodworking and non-ferrous applications.
If you are looking for help choosing the best industrial machine for your needs, in a price range that fits your budget, give Scarlett Machinery a try.